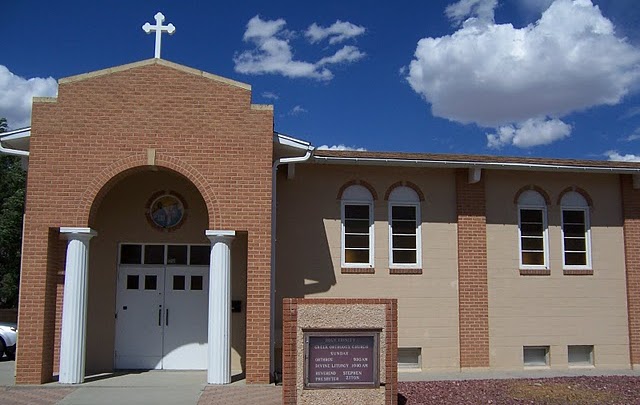 We will have church this Sunday, July 11. Orthros at 9 AM and Liturgy at 10 AM. Presiding priest is Fr. Daniel Payne. Hope to see you there.
"Welcome one another, therefore, just as Christ has welcomed you, for the glory of God." - Romans 15:7
Welcome to Holy Trinity Greek Orthodox Church in Casper, Wyoming. We are part of the Greek Orthodox Archdiocese of America, the Holy Metropolis of Denver, under the spiritual guidance of His Eminence Metropolitan Isaiah of Denver. The Orthodox Church was founded on the Feast of Pentecost in approximately 33 AD, and is the original Church, the Body of Christ on earth. The primary function of Holy Trinity is spiritual: to serve as the sacramental home for Orthodox Christians. In turn, we invite into our midst all who wish to draw near to God through the Body of Christ, the Holy Orthodox Church. Orthodox Christianity is, unchanged, the ancient Church of the New Testament. We invite everyone to "come and see" the beauty of Orthodox worship and to participate in the life of Christ.
Online Chapel
Saturday after Holy Cross
From today's Epistle
"For as many of you as were baptized into Christ have put on Christ. There is neither Jew nor Greek, there is neither slave nor free, there is neither male nor female; for you are all one in Jesus Christ...
St. Paul's letter to the Galations 3:27-28